ContraForce supports multi-tenant use cases with multiple product features. This article will cover the features in place to support the multi-tenant use case.
Overview
The ContraForce platform can fully support service providers that are using Sentinel and need to support multiple customers. The core of managing multiple customers is the ability to see incidents for all customers in a single pane of glass. Enter the ContraForce Global Command Page.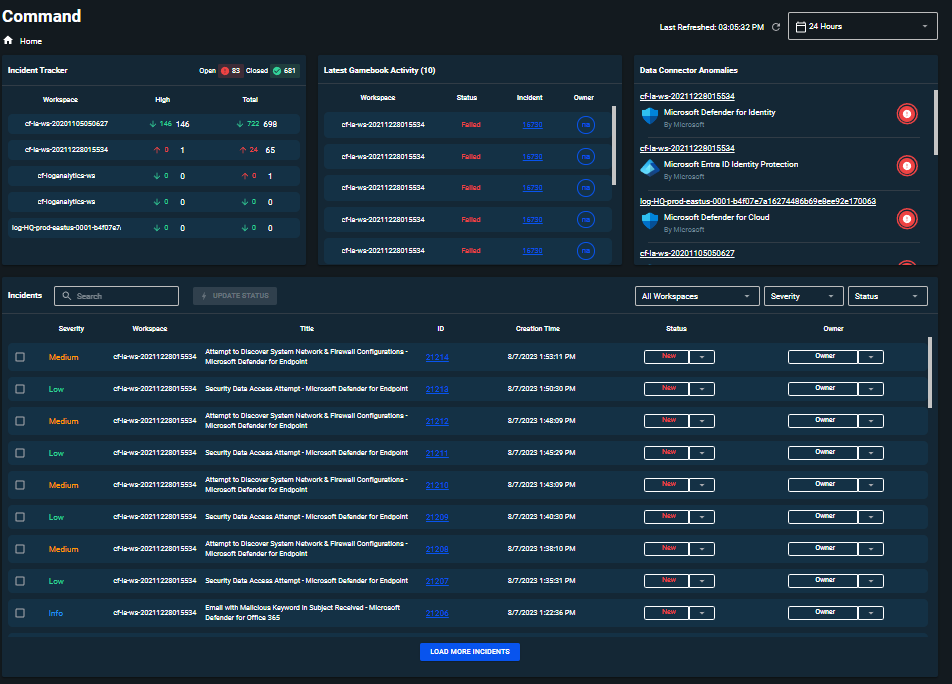 The Global Command page allows service providers to see data for all of their associated child tenants in a single view. Using the workspace filter dropdown, operators can select workspaces and create their own aggregate view. By default, data for all workspaces will be shown.
Additionally, the incidents table at the bottom half of the Global Command page can be filtered by selecting specific workspaces. Incidents can also be filtered by Severity and Status.

Accessing Specific Workspaces
When an operator needs to access a specific workspace, the Workspaces page can be used to access the respective Command, Gamebooks, or Data Connectors page for that child tenant.
Additionally, settings for specific child tenants can be managed through the Settings page.
How do I associate a tenant to my Global Command page?
Within Settings > Managed tenants, operators can access an onboarding link. This link contains a token that is specific to your tenant. Customers can use this link to onboard their Sentinel Tenant to ContraForce. As the tenant is onboarded, it will be automatically associated to your parent tenant.

If you have any questions about multi-tenant support, contact the ContraForce team at support@contraforce.com.